Our Winery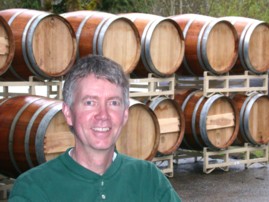 We established our winery in 1989 on the belief that the vineyards of Eastern Washington were capable of producing world-class vinifera wine grapes. The recent accolades for Washington state wines certainly confirms the extraordinary terroir of these vineyards.
We have always believed that the single most important factor in producing great wine is the vineyard. By starting our winery at a relatively early time in the Washington wine industry, we were able to source our grapes from a couple of the best and oldest vineyards in the state: Champoux and Ciel du Cheval. In the last few years, we have added several more best of the best vineyards: Slide Mountain, Elephant Mountain, Dineen, Sagemoor, Charbonneau, and Klipsun.
We believe that blending wines made from different grape varieties and sourcing grapes from different vineyard locations will generally make a more balanced wine with better flavor complexity. However, in years when the wines of a specific vineyard are especially outstanding, we may also produce vineyard-designated wines. We believe that exceptional wines should age well. Therefore, most of our wines are built around a tannic backbone that has proven to give them a long life.
Production is still very small, growing from 100 cases in 1989 to 2,000 cases in 2012. At this small volume it is easier to give the proper attention to each wine during every phase of the winemaking process.
We approach winemaking very much as an art, rather than a science, and rely on taste for most of the winemaking decisions. The ultimate criterion is that the wine should be very enjoyable and always beckon you back for another sip.
To realize the full potential of the grapes in our wines we have specialized in red wine made only from Bordeaux grape varietals. This allows us to discover how to best handle the many variables that make winemaking so fascinating, e.g. the best yeast strain, the optimum fermentation temperature, the use and duration of extended maceration, how hard to press the wine and the barrel regimen.
Our winemaking practices are very low-tech and therefore labor intensive. We use small open-top fermenters and punch down the cap by hand 2-3 times a day. The small lots allow us to closely monitor and control the fermentations and the amount of time the juice spends on the skins. We press the wine very slowly to avoid extracting any harsh flavors and do minimal pumping to be gentle on the wine. The barrels are all French oak from several different coopers to provide complexity. We prefer that oak not be a primary component of the wine so use only about 40% new barrels each year. To reflect of evolution of our winemaker's palate, and respond to a shift in the market place for more food-friendly and balanced wines, we have recently reduced the level of alcohol in our wines to approximately 14%.
We are open to the public only during our annual open house in March. Please join our mailing list to be invited to our release party.